Orange Bank & Trust Celebrates 10 Years at the Chester Location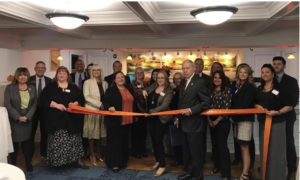 Middletown, NY – October 4, 2019 – Orange Bank & Trust Company celebrated 10 years at their Chester location on October 3rd with a ribbon cutting ceremony. Business leaders, customers and friends joined the bank's management, board of directors and branch employees to celebrate this milestone anniversary.
Michael Gilfeather, President  & CEO of Orange Bank & Trust said, "We are proud to celebrate this significant milestone and acknowledge the loyalty and support that our clients and community in and around the Chester area give us year after year."
The Chester branch opened in 2009. In 2017, both the Trust Services Division and the Private Banking Division of the Bank moved to the Chester branch.
About Orange Bank & Trust Company
An independent community bank beginning with a dream of 14 founders over 125 years ago, Orange Bank and Trust, through conservative banking practices, innovation and commitment to its community, now has assets of approximately $1 billion. In recent years, Orange Bank and Trust has added branches in Rockland and Westchester Counties and acquired Hudson Valley Investment Advisors, a wealth management company.  While growing, Orange Bank & Trust has continued to focus on providing premier banking services, based on personal relationships, for businesses, organizations and individuals.