Orange County Trust Contributes to Cornell Cooperative Extension Capital Campaign to Help Fund its Education Center and 4-H Park
MIDDLETOWN, N.Y. (May 27, 2015) — Orange County Trust Company has joined Cornell Cooperative Extension's capital campaign. The bank pledged $50,000 toward the building of the organization's new Education Center and 4-H Park in Orange County. Cornell Cooperative Extension Orange County Board President Andrea Nilon and Executive Director Lucy Joyce made the announcement.
"Orange County Trust is proud to support Cornell Cooperative Extension in this year of celebrations for the organization; Cornell University's 150th Anniversary and 100 years for Cornell Cooperative Extension Orange County," stated Bank President and CEO Michael Gilfeather. "Cornell's founders believed that the formal study of agriculture was essential for New Yorkers and the nation.  This notion is more vital now than ever, so it makes perfect sense for us to partner with Cornell Cooperative Extension as they champion our community's time-honored focus on agriculture education."
The Education Center and 4-H Park, better known as "The Park," will be located on Finchville Turnpike in the Town of Mount Hope. The new facility, to be situated on 54 acres, will be built in three phases over the next five years for a total cost of $7.5 million. Highlights of the Park will include a teaching kitchen, workshop space, show space, technology demonstration areas, and a milk house. The first phase is scheduled to open this summer.
"The Education Center and 4-H Park will reach thousands of additional youth and families each year with educational programs that showcase youth development, adult and family workshops, and agriculturally focused opportunities on a year round basis," stated Joyce.
-continued-
"We are thrilled to have Orange County Trust Company share our vision for the future in Orange County."
The Park will officially open Wednesday, July 22 with a ribbon cutting ceremony at 3:30 p.m.  On Saturday, July 25, Cornell Cooperative Extension will celebrate its 100th Anniversary with a family fun day at the Park and kick-off of the first 4-H Showcase Event on the property.  Community members are invited to see the site, join the fun, and experience Cornell Cooperative Extension and all it offers.  For further details and information, visit Cornell's website at www.cceorangecounty.org or call the office at 845-344-1234.
About Orange County Trust Company
Orange County Trust was founded in 1892 and adheres to conservative banking practices. A highly capitalized bank, currently with over $770 million in assets, Orange County Trust has built trust within the community by remaining financially strong and independent, capable of making timely decisions for your personal and business needs. The Bank provides a variety of products and services for individuals and businesses from nine locations in the mid-Hudson Valley region. For more information, visit www.orangecountytrust.com.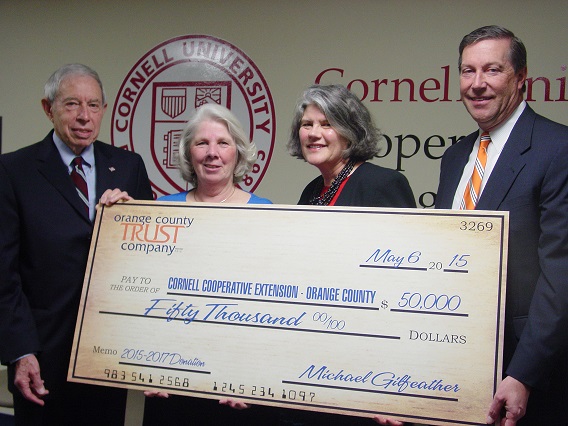 -30-
Left to right: Lou Heimbach, Board President Orange County Trust Company; Andrea Nilon, Board President Cornell Cooperative Extension Orange County; Lucy Joyce, Executive Director Cornell Cooperative Extension Orange County; and Michael Gilfeather, Bank President and CEO Orange County Trust Company.