TESTIMONIALS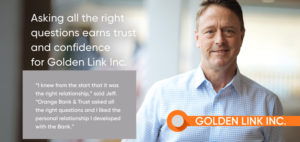 Jeff Waaland of Golden Link Incorporated, speaks with Mike Bennett of WHUD about his experience with Orange Bank & Trust Company.
Part 1:
Part 2: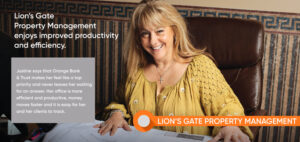 ---

"…Orange bank is now an essential part of our business…"
---
"I wanted to thank Orange Bank and your great staff for facilitating our PPP loan. The loan was critical and allowed us to retain all 7 of our employees without any furloughs. Kim Griffith in White Plains went beyond the call to help throughout the process. She has been supportive, responsive, and always provides clear, timely information. Greg Sousa was also helpful in shepherding my docs thru the process. Orange Bank is now an essential part of our business and I will recommend the bank to colleagues.
Thanks, again."
---
"…What a breath of fresh air!"
---
"My name is Michael Zack, and I'm president of The Rockford Group, a Rockland based advertising agency. I've kept my business banking at chase for over 25 years. And so naturally, when applying for the PPP loan, I did so through them. The process was – apply on-line and wait and wait and wait. There was absolutely no one to speak with more than a casual knowledge of the process and no way to talk with anyone directly related to processing the PPP loan application. My local branch, in this case, was worthless. In desperation, I went searching for another opportunity. That's when David Kirschtel of JCC Rockland mentioned that with the help of members of the team at your New City branch, JCC Rockland was able to attain a loan.
After leaving a message, the team at OBT was kind enough to call me back. What a breath of fresh air! Comparing the demeanor and willingness to jump into getting my PPP issues resolved was incredible when compared to my experience at Chase. They got the ball rolling and couldn't have been more gracious and welcoming.  OBT was caring, professional, and efficient. Even more remarkable was the follow-through! He called after hours- probably around 6:00 on a Friday night to see how things went and ask for a document that was needed (which he mentioned when we first spoke); I told him I supplied it to Jeremiah, which he then verified. In fact, he then verified that my application was accepted, and I believe approved.
I thought you should know just how impressive my experience with your people was and give some well-deserved kudos. Congratulations to you for assembling, maintaining and directing this incredible stable of all-stars and in particular, Greg Sousa!"
---
"…Your attention to detail and customer service…"
---
"My partner and I would like to thank you for all your assistance on securing the PPP loan for us.  You now have our loyalty in our banking needs personally and in our business.  Your attention to detail & customer service cannot be matched by any other banker we have ever had in the past."
---
"…the most pleasant and seamless interaction…"
---
I can honestly say in my 11 years as a business owner that it has been the most pleasant and seamless interaction I have ever had. Kathy is wonderful and everyone else I have had limited contact with have been really great. Looks like everything is going to go through. I appreciate that kind of service just like I try to give the same. I not only plan on doing plenty of business with you guys but I have already sung your praises to my staff and will so the same with patients.
---
"…We look forward to a very long relationship with you…"
---
I can tell you that the Goshen Public Library and I are very grateful to have you guys as our business partners. We look forward to a very long relationship with you.
---
"…Orange Bank & Trust's investment in the community and in the Center for Safety & Change is an integral part as to why we were successful in obtaining the SBA PPP loan…."
---
"Center for Safety & Change has been Rockland County's sole victim assistance provider for 40 years.  Our staff of 62 are considered essential workers and have been working around the clock during COVID-19.  Our services include and are not limited to a 24-hour hotline for victims of domestic violence, sexual assault, human trafficking and all other crimes, emergency shelter, supportive counseling and advocacy services, creative art therapy, accompaniments, legal representation and advocacy, sexual assault forensic exams, community outreach, awareness and education while creating social change.
Orange Bank & Trust has been instrumental in ensuring that the operations of Center for Safety & Change continue to thrive without any interruptions. The staff at Orange Bank & Trust are genuinely invested in the community and ensuring customer satisfaction.  Orange Bank & Trust's investment in the community and in the Center for Safety & Change is an integral part as to why we were successful in obtaining the SBA PPP loan.  This is what community banking is about, relationship building.  The Center for Safety & Change isn't here to benefit ourselves, we are here to serve the community and the victims that live within the community. An organization is only successful when the community sees it as an essential part of the community, we are fortunate that the community Orange Bank & Trust sees us as such.  Orange Bank & Trust truly believes that in order for the community to thrive and the Center for Safety & Change to successfully do what it's here to do we all need to be in this together.  Thank you Orange Bank & Trust for being our community bank!"
---